Welcome to my collection of custom software titles.
Windows Media Center
Updated 20-01-2009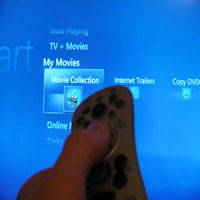 Windows Media Center allows you to turn your TV into a powerful media unit enabling you easy access to music, pictures, DVDs, time shifted TV and loads more.

In this section I will write some tutorials to help enhance your Media Center experience. I will cover add-ons available for Media Center as well other optimization and configuration tips.
Windows Media Center is an integrated part of Windows Vista and is also available in Windows XP MCE Edition.


My Movies DVD Browser
Support for DVD's in Media Center is a little poor. This can be greatly improved by installing this add-on, it provides many of the standard features you would expect. More

Tidy Up Your Music Collection
In this quick guide we look at fixing the ID3 tags on your music collection.
Read the guide

Display a Web Page from MCE
A quick method to add an item to Windows Media Center menu that will open a web page. More