Album Art Finder
Updated 20-01-2009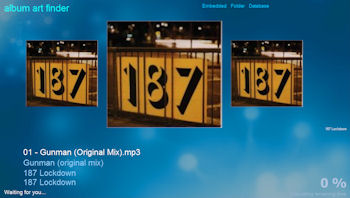 Album Art Finder will search through your music collection and attempt to find matching cover art from the internet. The aim is to make browsing your music collection on media players a more enjoyable experience.

Album art finder has 2 methods of operation, the first is to place an image in album folder, this is called a folder.jpg. The second method is where images are scaled and embedded into the mp3 making browsing on Windows Media Center or an iPod even better.
Recommendations:
It is a good idea to first clean your music tags before you use Album Art Finder, this will greatly increase the chances of getting a correctly matched cover. I have provided a guide on this site to help you do this.
Read the guide
Make sure you have a fast broadband connection as this software reads many website to find each cover.
Support
We no longer support this product