iInvest (Simple Automated Betfair Trading Bot)
Updated 22-11-2009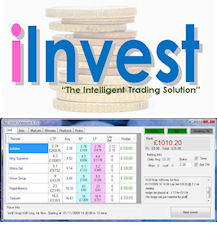 iInvest is a fully automated Betfair trading bot. iInvest is unique, its requires no trading knowledge, no setting up of rules and no need to sit at your PC for hours. We have a central based server that runs 24/7 calculating every possible combination of trading method, from this we can determine the optimum trading strategy and automatically tell iInvest when and what to trade.

We have over a 90% success rate on all trades made by our software. As mentioned you require NO trading knowledge at all, load up the software, put some money in your bank and leave the software to do its thing. If you like you can watch how the software trades in order to teach yourself about trading, try your own strategies or just watch your bank increase. With fully automated betting you can't make any wrong decisions.


Download iInvest (BETA)
1 MB
Requirements: Microsoft .NET Framework 3.5

The software is currently open to BETA testing, please email us for an unlock
code if you are interesting in testing iInvest.
Support
Please email us for support